First discounts for Book Track
I released Book Track - Library Manager in December of 2019 (end of December 2019 for iOS, February 2020 for macOS). The app had an introductory price of $1.99 and has had price changes upwards as features increase, up to the current price of $4.99 for iOS and $9.99 for macOS.
In a year I have never done any kind of promotion. There is no particular motivation. I have never given importance to it and I have always devoted little time to marketing, leaving more space to the development of new features.
Are you an indie new to the App Store? Here's some🎄Christmas🎄wisdom for you:

The charts freeze at the start of the App Store's break until they come back. It's a great time to discount your paid up front app bc if you chart you stay there. Get those xmas iPhone activations 🎅! pic.twitter.com/mRycNzJoLl

— Jordan Morgan (@JordanMorgan10) December 13, 2020
This tweet from Jordan Morgan intrigued me to the point of making me think of making the first Book Track discount near the Christmas holidays. François Boulais Indie App Santa initiative finally convinced me to launch my first promotion.
I contacted François asking to also include Book Track in the calendar. The initiative was so successful and François has received so many messages that I did not immediately receive a response from him. So I decided to launch my promotion independently.
From December 14 to December 23, 2020, the app had a discount of 60% on iOS and 50% on macOS. I posted the news on Twitter and within a few hours there were posts on Reddit and on some sites that track promotions on the app store.
Obviously there was a download spike relative to December 15th, but that has been waning over the days. The overall downloads, however, weren't exciting and didn't move the App Store rankings much. I could have ended the promotion early but I have decided to keep my word and end the promotion on December 23rd.
At the end of the year, unexpectedly, I received the answer from François Boulais, who was very willing to include Book Track in the initiative. We both had a bit of perplexity because the app had recently been discounted, but we decide to proceed and agree on the date of January 6, 2021. On this date I would have put only the iOS app at a 60% discount.
I looked forward to this day as I was curious to see what the outcome would be. This is a chart showing Book Track downloads (iOS and macOS) from December 1, 2020 to January 7, 2021.

From the graph you immediately notice the first peak between 14 and 15 December, but the results obtained on 6 January thanks to Indie App Santa are about three times what was obtained in December by independently promoting the app.
🎁0⃣6⃣🎁

[iOS] Great day for book readers! Catalog and track your books with @BookTrackApp on your iPhone & iPad! 📚✨

Grab it at $1.99 today on App Store! (reg. price: $4.99) 💰

👉 https://t.co/8hs5UvgcNh pic.twitter.com/o4VKMZpHfy

— Indie App Santa 🗓✨ (@indieappsanta) January 6, 2021
Generally the app conversion rate is around 0.1%. The conversion rate on December 15 was 1%, with 14,000 impressions and 2,000 product page views. On January 6, the conversion rate increased to 1.30%, with 32500 impressions and 5500 product page views.
An interesting fact is that the app has climbed the Books rankings around the world. In Italy, Germany and Spain Book Track was in first position for 24 hours, while in the United States it reached the third position. An unexpected result.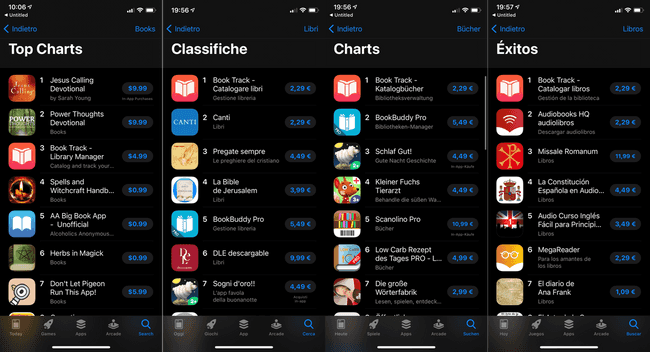 It is good to specify how on January 6 the news was also reported on Reddit and on the usual sites that report promotions, but also on news sites such as MacObserver, 9to5Toys and Applefahren.
Promotions like this make me understand that there are people interested in Book Track but it is essential to make the app more visible. For this reason, I started studying a bit of SEO and ASO, hoping to improve the visibility of the app both on the App Store and on the web. I will do some experimentation and share the results obtained on this blog.